Hawaiian Handmade Lotion from Maui, Hawaii
As sacred hula is to the world of dance... our tropical handmade lotion is to the world of totally exciting skin care. Blending six natural skin conditioners and four vitamins... this Maui lotion is not just another pretty package. Its exceptional ingredients make it the crème de la crème of all Maui handmade lotion.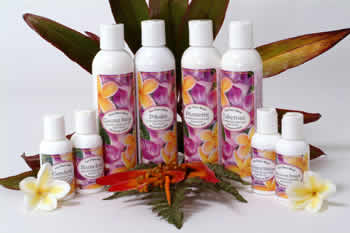 Six Natural Skin Conditioners and Four Vitamins
Made with deionized water ¤ aloe vera gel ¤ stearic acid ¤ sweet almond oil ¤ glycerin ¤ shea butter ¤ vegetable based emulsifier ¤ hydroethlcellulose (from corn) Vitamins A ¤ D ¤ E and B ¤ Jojoba oil ¤ Kukui Nut oil ¤ methyl/propylparaben ¤ TEA and fragrance.


GUARANTEED! IF for any reason You are not Satisfied with any Sun Flare Maui bath products, simply return them for a Full Refund
8 oz. Sizes of Handmade Lotion
Just click GREY Buttons to add item to your shopping cart.
Handmade Lotion Sampler
Having difficulty choosing from this fabulous array of fragrances? No need. Pick your top three and order a sampler of 3 - 2 oz. bottles. Lotion Sampler presented to you in a lovely drawstring Gift Bag.



"I met your lovely wife at the Sunday market back in January. I was in Maui with my husband for 10 days and the first Sunday I bought 2 Shea Body Butters (after having a great time testing them all and having a nice conversation with your wife). I loved them so much I went back the following Sunday and bought several more. I gave several for gifts and have already gone through 3 myself, so you can certainly count on me as a regular customer! I love your products."

Liz B.
Reston, Virginia


Just wanted to let you know how much I love your coconut mango lotion.

The smell takes me back to Maui every time I use it and have had many compliments on the beautiful scent.

Besides the lovely smell it is the best moisturizer I have ever used, goes on smoothly, non greasy and I can't believe how long it stays with your skin.

Jeannie ~ Sidney, B.C.
We were in Maui for a wedding and purchased your Plumeria Lotion, which we loved.
We noticed the web site on your label. Plumeria flowers have a most delicious smell and love your lotion.
I sent a couple bottles to my 98 Year old aunt in the Netherlands. She states she has never had such soft skin.

K. Vliet
Altos, CA
"I was in Maui about a month ago and a friend gave me this lotion as a welcoming gift. I started using it and my skin has never felt so nice.

Specifically, it smoothed out those bumps that you sometimes get on you upper arms. So I've been raving about it to my friends and they all want to try it."

K. Igowsky
Minneapolis, MN

Handmade Lotion «
SAFE

SECURE
online Shopping

ALL transactions are ENCRYPTED for your Security, Protection and Privacy!
Remember Maui | Handmade Lotion | Shea Body Butter
Bath ¤ Massage Oil | Bubble Bath Body Wash | Unique Corporate Gift
Privacy Policy | Contact Us


Copyright © 2001-2017 Sun Flare Maui All rights reserved.
1400 Ho'olako Street, Wailuku, Hawaii 96793
Privacy Policy | Toll Free: (808) 419-6980
Made in Maui ¤ Hawaii by http://www.remembermaui.com Email: bill@remembermaui.com
Last Updated: March 28, 2017 jl