Authentic Shea Body Butter Products from Maui, Hawaii

Shea Body Butter is one of the most silky smooth skin care products your body will experience. Shea butter have powerful moisturizing abilities and, coupled with super rich mango butter and Hawaii's precious Kukui nut oil, provide you maximum hydration. The result is a well toned and healthy looking skin. Highly concentrated and blended with the finest ingredient, it absorbs instantly, leaving behind only the marvelous fragrance of pure Hawaii.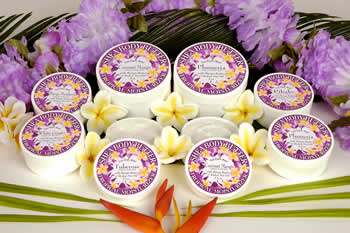 Experience the Royal Benefits of Hawaiian Body Butter: Six Natural Skin Conditioners and Three Vitamins
Blended with Aloe barbadensis (Aloe) Juice, Butyrospermun parkii (Shea) Butter, Emulsifying Wax NF, Simmondsia chinensis (Jojoba) Oil, Tocopherol (Vitamin E), Kukui Nut Oil, Phenoxyethanol, Hamamelis virginiana (Witch Hazel), Oenothers biennis (Evening Primrose) Oil, Tetrasodium EDTA, d-Calcium Pantothenate (Pro-Vitamin B5), Mannan, Salix nigra (Black Willowbark) Extract, Azadirachta indica (Neem) Oil, Rosmarinus officinalis (Rosemary) Oleoresin, Citric Acid.
| | | | | |
| --- | --- | --- | --- | --- |
| Passion Fruit Paradise | 2.3 oz. | Quantity: | | |
| Lavender | 2.3 oz. | Quantity: | | |
| Hana Rain | 2.3 oz. | Quantity: | | |
| Tuberose | 2.3 oz. | Quantity: | | |
| Plumeria | 2.3 oz. | Quantity: | | |
| Coconut Mango | 2.3 oz. | Quantity: | | |
| Gardenia | 2.3 oz. | Quantity: | | |
| Pikake | 2.3 oz. | Quantity: | | |
| Mango Mandarin | 2.3 oz. | Quantity: | | |



"My mother-in-law received your product as a gift from a friend. She absolutely loved and raved about the Shea Body Butter.

She said if she had a bigger jar, she'd use it over her entire body. Your website was listed on the jar so I ordered for her and got a couple for myself as well. I tried shea butter from HSN that was very expensive and sent it back because it was nothing like your product."
~P. Anderson
Orem, Utah




"Got my order today. Thank you for sending it so fast.

We were in Maui last June & I purchased several tubs of the shea butter. Used it on & off, then about 3 or 4 monthes ago, started using it daily. To my shock, my fingernails started growing without splitting/flaking & are strong. Barely ever do I get a hangnail. My fingernails on my little fingers have grown double length. My skin on my hands used to get hurt if I hit it; now, I hardly ever get a sore. Also, it has whitened my nails. This is a wonderful product. If you ever think about stopping making it, let me know so that I can order enough for the rest of my life! :)
Thank you for your wonderful product & your service! "
~Beverly M.




"I just wanted to let you know that I am sooo happy with your wonderful Shea Body Butter products! They are the best!! It?s the best Shea I?ve ever tried, you are truly correct, it?s all the skin care you will need! I?ve ordered some for gifts, and I was a big hit. I just placed my third order. Just wanted to let you know your products are great, keep up the good work." Thanks!
~Jackie T.


Handwritten Hawaiian Gift Cards Included Free - Thinking of sending a gift today? We will be happy to express your personal sentiments on a lovely handwritten Hawaiian card. Let us know what you would like to say on the bottom of the check out page in the Special Instructions area.




"Thanks for the shipment! I can't believe I ever lived without this body butter!
It is soooo wonderful and leaves my skin feeling so soft!
I had bought another brand of body butter and thought it was great, but yours leaves that one in the dust.
I am now hooked on another of your products forever!"

J. Mac Dowel
San Diego, CA
"My son Chris has been providing me with some of your products, which I like very much.
The Shea Body Butter cream especially. I have been using it on my heels at night where the skin was really rough. There has been such an improvement. My heels are not rough anymore. I would recommend this cream to anyone."

P. Morakis
Santa Barbara, CA