Luxurious Handmade Bath Products
- Like a Hawaiian Vacation... Every Morning!
"Going Surfing... January 9-30, 2016"
NOTE: Orders made during this time may take 3-5 days longer... Mahalo ;-)

Shea Butter Gift Set as seen on the right... Breathe in the irresistible island aromas that will woo you to distraction.
Thinking of sending a gift today? We will be happy to express your personal sentiments on a lovely handwritten Hawaiian card. Let us know what you would like to say on the bottom of the check out page in the Special Instructions area.
Every day feels like a vacation when you wake up to the luxury of Remember Maui handcrafted bath items all scented with clean tropical breezes. Handmade bath sensations handcrafted with the highest quality Kukui Nut Oil.
Experience handmade lotion ¤ bubble bath - body wash and bath and massage oils. You can select unique decorative gifts here as an anniversary gift idea or bridal shower party favor. For birthday present ideas as Hawaiian wedding favors all scented with clean tropical breezes or just a treat for that very special person.
Shea Body Butter

Shea Body Butter is the only skin care product your body will ever need. Shea butter has powerful moisturizing abilities and coupled with super rich mango butter and Hawaii's precious Kukui nut oil provides maximum hydration. The result is a well toned and healthy looking skin. Highly concentrated and blended with the finest ingredient it absorbs instantly leaving behind only the marvelous fragrance of pure Hawaii (HI). Available individual 2.5 oz. jars and in Gift Sets.
Aloha Greeting Cards
Our New Hawaiian Flower Greeting Cards are the prettiest and most authentic cards of Hawaiian flowers available. Suitable for framing and blank on the inside, these all occasion cards will delight the eyes and lift the spirit. Available individually or in bouquets of eight, you will be totally delighted with these marvelous photo greeting cards.

Kukui Nut Oil
Hawaiians discovered long ago that the oil pressed from the kernel of the kukui nut tree helped keep their skin soft and supple after exposure to salt water ¤ hot sun and dry wind. Discover this magical... skin loving oil for yourself - we use it in every one of our skin care products.

Handmade Lotion
Six Natural Skin Conditioners and Four Vitamins. Skin care could become your favorite time of day. Just one whiff of your favorite tropical scent sealed up in one of our magical bottles will relax your body... island style. This wondrous handmade lotion contains Six natural skin conditioners-Aloe Vera gel ¤ Sweet Almond oil ¤ Glycerin ¤ Shea butter ¤ Jojoba oil ¤ Kukui Nut oil and Vitamins A / D / E and B. It will nourish and moisturize your skin until it feels luxuriously rich and super smooth.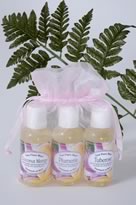 Bath & Massage Oil
There's no choice in the matter. Once you've tried Maui made bath and massage oil you'll go right to them every time. You'll delight to the understated fragrances that give you just a hint of the tropical you'll know for sure that heaven just called your name.
Bubble Bath and Body Wash
Time for a Lush bubble bath. There are moments in the day that are just for you. Our bubble bath and body wash is made for just these moments. When you bathe with our delicious island fragrances and feel the exotic smooth Kukui Nut oil and Vitamin E absorb into your hungry skin you will know that your time has come... this is luxury in a bottle.






[Top] ^